InfluxApp
InfluxApp is our powerful booking app that your members use to manage their interaction with your courses, classes, appointments and workouts.
After inviting your members to use Influx, they'll be able to save InfluxApp to their mobile homescreen, or bookmark it in their browser.
Troubleshooting
As easy to use as InfluxApp is, there's still times when your members will run into some difficulty. To help you through this, here is our 5 step troubleshooting guide:
1. Have you invited them?
Ensure you have invited the member by going to their profile page. See more about inviting members here:
Inviting members to use InfluxApp
2. login URL address
Confirm they are using the correct login address (from time to time members try to log in as clubs, not members):
If members have trouble remembering the URL, they can see how to save InfluxApp to their smart phone here:
3. Confirm they are using the correct e-mail address
Occasionally members use the incorrect e-mail address, or change e-mail addresses, but do not notify clubs.
4. Reset their password
Go to the member's profile, and then select
Options > Reset password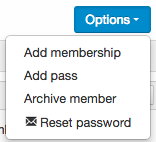 5. Still having trouble?