Importing
There are two ways you can add members into Influx:
Individually

Bulk upload
This page covers the bulk upload. If you want to know how to add members individually, then see this page:
Bulk upload of members
Influx has an inbuilt uploader that allows you to upload a CSV or xlsx file (such as Excel) in two easy steps:
Step 1: Download the template form from Influx
First select the small triangle to the right of the 'add member' button, then 'import members':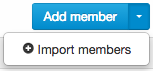 Next you can download either a CSV or xlsx file.
Step 2: Complete the template and upload the file to Influx
Once your document is complete, you can 'upload' the file.

This video gives a demonstration of how the bulk uploader works: