Schedule workouts
The easiest way to add a workout is to select the whiteboard, and then the day you wish to add the workout to.
Note: Some workouts of the day have been pre-programmed into the Training database.
When adding a workout, you may first like to add a warmup and warmdown (that are only visible to staff):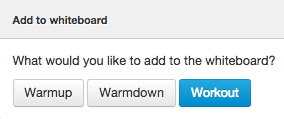 The workout portion is what will be visible for your members to see, and is the aspect they are able to record a result for in InfluxApp.
When adding a workout, you have two options:
A Workout of the Day (WOD), or

A Lift.
#####New workout of the day (WOD)
Here you can input a name and description, and choose the scoring method for your members to record in InfluxApp:
Your workouts of the day can be scored a variety of ways:
For time – e.g. 5km time trial, or Fran WOD
For rounds – e.g. Cindy WOD, or Beep test
For distance – e.g. Row for 10mins
For load – e.g. 5mins to complete Max squat and Push Press for 10 reps each
For repetitions – e.g. Number of push ups in 1 minute
Tabata – e.g. 8 rounds of sit ups: 20 seconds per round and 10 seconds rest
Total – e.g. Other total not included above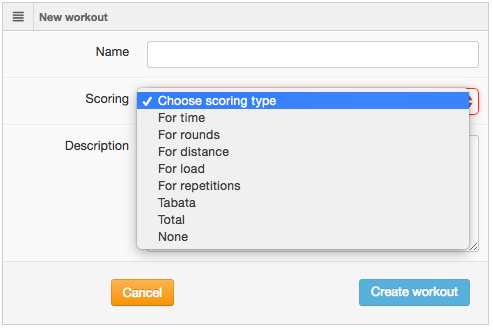 #####New Lift
Here you can add the lift and the programmed reps and sets you wish your members to complete.
Note: they can manually adjust these in InfluxApp to reflect what they actually completed.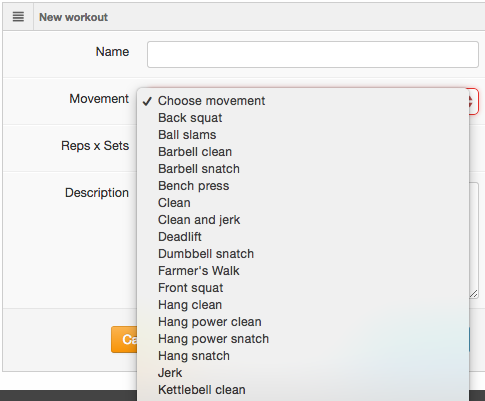 If there is any exercise / movement you wish us to add, please contact us.